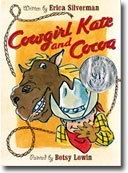 Betsy Lewin (Illustrator)
Harcourt Children's Books

Hold on to your hats! Two new pals have arrived on the scene: Cowgirl Kate and her stubborn, but devoted cowhorse, Cocoa. Together they count the herd, ride the range, and, of course, argue till the cows come home--as only best friends can do.

With its spirited text and bright, humorous illustrations by Caldecott Honor recipient Betsy Lewin, this first book in the Cowgirl Kate and Cocoa series is bound to be a hit with young wranglers everywhere.


"The humorous text, warm friendship between horse and owner and captivating illustrations add up to a cowgirl and "cowhorse" with enough star power to ride the range together in subsequent sequels." Kirkus 2005

"A fine choice for reading aloud to small groups or for confident new readers to tackle on their own." Booklist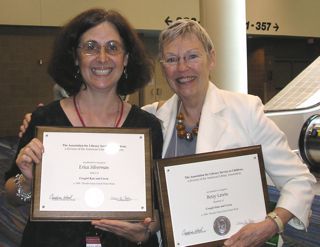 Betsy Lewin and I met for the first time when we went to the American Library Association conference in New Orleans to receive our award.

People are often surprised to learn that authors don't usually choose their artists or work closely with them.

An editor or art director selects the artist. The artist reads the manuscript, takes it into her heart and makes it her own. Then she is free to use her vision and imagination. A good author-artist pairing can be magical, leading to a seamless blending of text and image.

Betsy Lewin brings my characters to life so perfectly. I love her work! It was a treat to finally meet her and tell her in person.