The Halloween House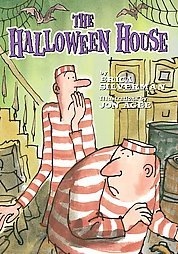 Jon Agee, Illustrator,
Farrar, Straus & Giroux/Square Fish


Little do two escaped convicts seeking refuge know that they're about to encounter these werewolves and nine other creepy creatures, all ready for their Halloween haunt. The night is long, and the crack of dawn finds the lawbreakers making a beeline for the safety of their cell. Erica Silverman's spooks might upset Jon Agee's cons, but they're sure to enchant all young Halloween lovers. The sparkling verse is matched by pictures that are an irresistible combination of skill and wit.



"A natural candidate for reading aloud... Children will need little encouragement to imitate the howling, squirming, swooping, "Booooooo"-ing cast, without fear of nightmares when it's time for bed." Kirkus

"The very funny story is matched by hilarious illustrations in a style reminiscent of New Yorker cartoons. This will be a story hour hit all year round." Booklist