Follow the Leader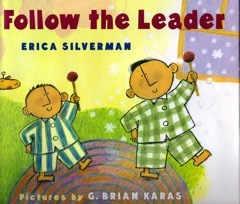 G. Brian Karas, Illustrator
Farrar, Straus & Giroux Books for Young Readers


Follow me walking.Hop when I hop.Skip when I'm skipping.Stop when I stop.Follow the leader is fun! Who doesn't love to hop and skip and trot and squat and leap behind the leader? Who doesn't love to be the leader? Welcome to Erica Silverman's clever game. As one child follows another and longs for a turn to lead, readers will share all the joy of their exuberant play -- and its occasional frustration, too. G. Brian Karas's bold, brilliant pictures feature endearing boys who make the game truly enchanting.
A big brother narrates this whimsical game of "Follow the Leader," in which he insists that his little brother does whatever he says. Yet, after enduring several pages of (sometimes literally) jumping through hoops, the younger sibling has had enough... This simple tale captures both the fun and the tension of sibling relationships. The rhyming verses use lots of actions ("Trot like a pony./Squat like a frog./Leap like a rabbit over this log"), making this an ideal choice for storytime." School Library Journal

"...the moment when the younger brother finally gets his turn in front highlights the genuine affection never far beneath the surface of the boys' interactions, regardless of who's in charge." Horn Book.

"[A] gentle lesson of taking turns."--Booklist