Gittel's Hands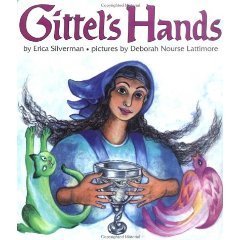 Deborah Nourse Lattimore, Illustrator
Published by Bridgewater Books, Troll Publications
Available through Scholastic

In a tiny Polish village, Gittel is asked to perform impossible tasks when her father boasts of her skills. She must embroider a matzo cover without a needle and create an Elijah's cup from a single silver coin. Though Gittel feels discouraged, her kind heart and good deeds are soon rewarded by the prophet Elijah.
"In the tradition of Rumpelstiltskin, this charming tale tells of a poor "Jewish water carrier who lives in a shtetl in pre-war Eastern Europe with his loving, good-hearted, creative daughter. He boasts to the wealthy hay merchant that Gittel can outdo first the man's seamstress, and then his cook in return for some hay. The merchant cheats the girl's father by failing to provide her with a sewing needle and firewood for the stove. But Gittel does make a silver Elijah's cup, candlesticks, and Seder plates with the help of the prophet himself, who responds to her kindness toward a trapped dove, a starving cat, and a shivering beggar...Told in the careful words of a storyteller, with a bit of repetition thrown in for good measure, the story embodies the essence of the Passover holiday in a traditional folktale motif. Read aloud, it will delight young audiences." SLJ

"Gittel's adoring father brags relentlessly about her many talents and even offers her services as a seamstress and a cook to pay off his debt to Reb Raya. But Reb Raya provides neither a needle for sewing nor wood for the stove. Given one last chance to help her father, Gittel is locked in Reb Raya's cellar and instructed to fashion a ceremonial goblet from a single silver coin. Helpless and alone, she sees a shivering beggar outside the window and offers him her shawl. Suddenly, the beggar appears in the cellar and, with tools, flame, and bars of silver, teaches Gittel to make beautiful plates, candlesticks, and the required Elijah's cup. Of course, the benevolent beggar is the prophet Elijah himself. Gittel goes free, her father's debt is paid, and the greedy merchant gets his due in a satisfying conclusion. Luminous and sometimes unusual colors--a purple dove, a green cat--and a topsy-turvy, collagelike interplay of textures and geometric shapes create the effect of a Chagall stained-glass window, ensuring that there is much to occupy the eyes as well as the hearts of story lovers." Booklist